A Corpus Based Study Language Fixity in Journalistic Discourse: A Corpus-Based Study of Pakistani Editorials and Blogs
A Corpus-Based Study of Pakistani Editorials and Blogs
Keywords:
fixed phrases, language of editorials, phrase fragments
Abstract
Lexical bundles are the fixed patterns of language that appear in texts more than expected which
according to Biber and Conrad (1999) are "word forms that often co-occur in longer sequences"
(p. 989). The length of these structures varies but the most common lexical bundles are three
words strings followed by the four words strings. The aim of the current study is to explore 3-
word lexical bundles in Newspaper editorials and news blogs written by Pakistani writers to
verify the fixity of language, which means language relies on the prefabricated structures, in the
journalistic discourse. For this purpose a corpus of 25641 words was compiled which consisted
of 20 newspaper editorials and 20 news blogs. The corpus was explored in the light of Biber and
Conrad's (1999) structural taxonomy of lexical bundles. The analysis shows that the news
editorials have higher use and variety of lexical bundles compared to news blogs which
highlights the fluency and higher linguistic competence of the editorial writers. The dominant
category of the lexical bundles was noun phrase fragments in the newspaper editorials.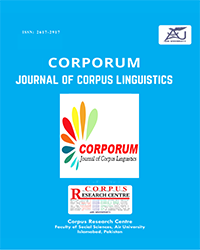 How to Cite
1.
Yousaf M, Habib A, Ali Khan I, Masroor F. A Corpus Based Study Language Fixity in Journalistic Discourse: A Corpus-Based Study of Pakistani Editorials and Blogs: A Corpus-Based Study of Pakistani Editorials and Blogs. Corporum [Internet]. 2020Jun.18 [cited 2022Jan.28];2(2):55-67. Available from: https://journals.au.edu.pk/ojscrc/index.php/crc/article/view/49