Corpus based Analysis of Politeness Strategies in Acknowledgement Section of Selected Pakistani PhD Literature and Linguistics Theses
Acknowledgement Section of Selected Pakistani PhD Literature and Linguistics Theses
Keywords:
Pakistani PhD thesis, Literature and Linguistics, gratitude, politeness strategies, acknowledgement section, Leech"s model of politeness, Bach and Harnish, corpus.
Abstract
Acknowledgement section of PhD thesis is often taken as the
least read section in a thesis as compared to the serious research based
content. However, while decoding the significance of acknowledgment
section, the researchers have focused on the use of compliments and
gratitude expressions. This study aims to present the oft neglected aspect
of academic theses i-e acknowledgment sections of selected Pakistani
PhD literature and linguistic theses to study how and why thesis writers
use politeness strategies to express compliments and gratitude towards
others. The study also links the use of politeness strategies with the
cultural context of writers. The data has been taken from the
acknowledgment sections of selected Pakistani PhD theses retrieved
from HEC Pakistan's thesis repository. Leech (2005) and Bach and
Harnish's (2005) model of politeness strategies is used as framework for
analysis using corpus as a method. The study reveals that the Pakistani
PhD thesis writers follow a God-supervisor-colleague-teachers-friendsfamily pattern while expressing gratitude to others. With reference to the
cultural and religious norms, the Pakistani writer firstly expresses
religious sentiments and then gives vent to the cultural and personal
feelings of gratitude.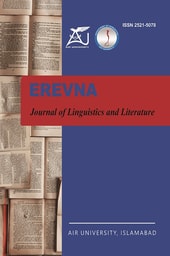 How to Cite
Mudasser, S. (2020). Corpus based Analysis of Politeness Strategies in Acknowledgement Section of Selected Pakistani PhD Literature and Linguistics Theses: Acknowledgement Section of Selected Pakistani PhD Literature and Linguistics Theses. Erevna: Journal of Linguistics and Literature, 1(1), 20-37. Retrieved from https://journals.au.edu.pk/ojserevna/index.php/erevna/article/view/34