Corpus-Assisted Corpus-Assisted Evaluation of Cross-Cultural Representation in the Intermediate English Textbooks (Punjab Textbook Board)
Corpus-Assisted Evaluation of Cross-Cultural Representation in the Intermediate English Textbooks (Punjab Textbook Board)
Keywords:
CDA, corpus-assisted, cross-cultural, English textbook evaluation
Abstract
In the context of colonial subjugation, linguistic-imperialism, political-instability and economicmeltdown in Pakistan, entire educational setting inside a social construct has produced a complex body of text. This study explores the cross-cultural disparities in the Intermediate English Textbooks by Punjab Textbook Board (PTBB) to determine disproportionate inclusion of culture content by combining corpus-toolkit with Norman Fairclough's Critical Discourse Analysis (CDA) (Fairclough, 1995). The method adopted is based on the cross-cultural analysis of five cultural-categories; anthroponyms (personal-names), toponyms (place-names), food-items, ceremonies or events, and religion in the English textbooks (PTBB). Accordingly, top-five highfrequency words (nouns) indicating cultural specificity related to indigenous and foreign culture are selected for the cross-cultural analysis. The corpus-tool processed data to identify the type (indigenous or foreign) and category (anthroponyms, toponyms, food items, ceremonies or events, and religion) of cultural content quantitatively. Critical Discourse Analysis (CDA) signified quantitative data qualitatively in the context of inherent social patterns. The results demonstrate, foreign cultural content is more frequent than indigenous cultural content in Intermediate English textbooks (PTBB). Hence, considering language and culture tightly anchored, cross-cultural exploration within our textual framework offers new perspectives in Pakistani educational discourse. Present study argues cross-cultural depiction in the English textbooks that eventually formulates, strengthens and conceptualizes leaners' insight about the societal patterns.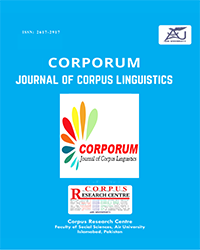 Published
2020-06-18 — Updated on 2020-09-24
How to Cite
1.
Khalid H, Riaz M. Corpus-Assisted Corpus-Assisted Evaluation of Cross-Cultural Representation in the Intermediate English Textbooks (Punjab Textbook Board): Corpus-Assisted Evaluation of Cross-Cultural Representation in the Intermediate English Textbooks (Punjab Textbook Board). Corporum [Internet]. 2020Sep.24 [cited 2022Jan.28];2(2):01-15. Available from: https://journals.au.edu.pk/ojscrc/index.php/crc/article/view/46