A Corpus Based Study of Phrasal Verbs of Go in Mohsin Hamid's Fiction
Study of Phrasal Verbs of Go in Mohsin Hamid's Fiction
Keywords:
concordance, corpus based, contextual use, dictionary meaning, phrasal verbs
Abstract
This study aims at investigating the frequency and discourse functions of phrasal verbs of go in the selected corpus. The corpus developed for this study was based on 5 short stories and 3 novels written by Hamid. It has 218,677 words in total. The reason behind choosing go as compared to others i.e., carry, pull and pick is its frequent occurrence. A total of 264 concordance lines were found with the verb go through language tool WordSmith 6.0 but not all of them were hits for phrasal verbs. Therefore, the researcher used 2 more language tools for finding out possible phrasal verbs with go in the corpus and then analyzed them qualitatively with examples from the developed corpus. The comparison between the dictionary meaning and contextual usage of the found phrasal verbs within the selected corpus showed that the author, Mohsin Hamid, has used phrasal verbs of go in his writings frequently. This study is helpful in enhancing the knowledge of phrasal verbs for teachers, students and future researchers.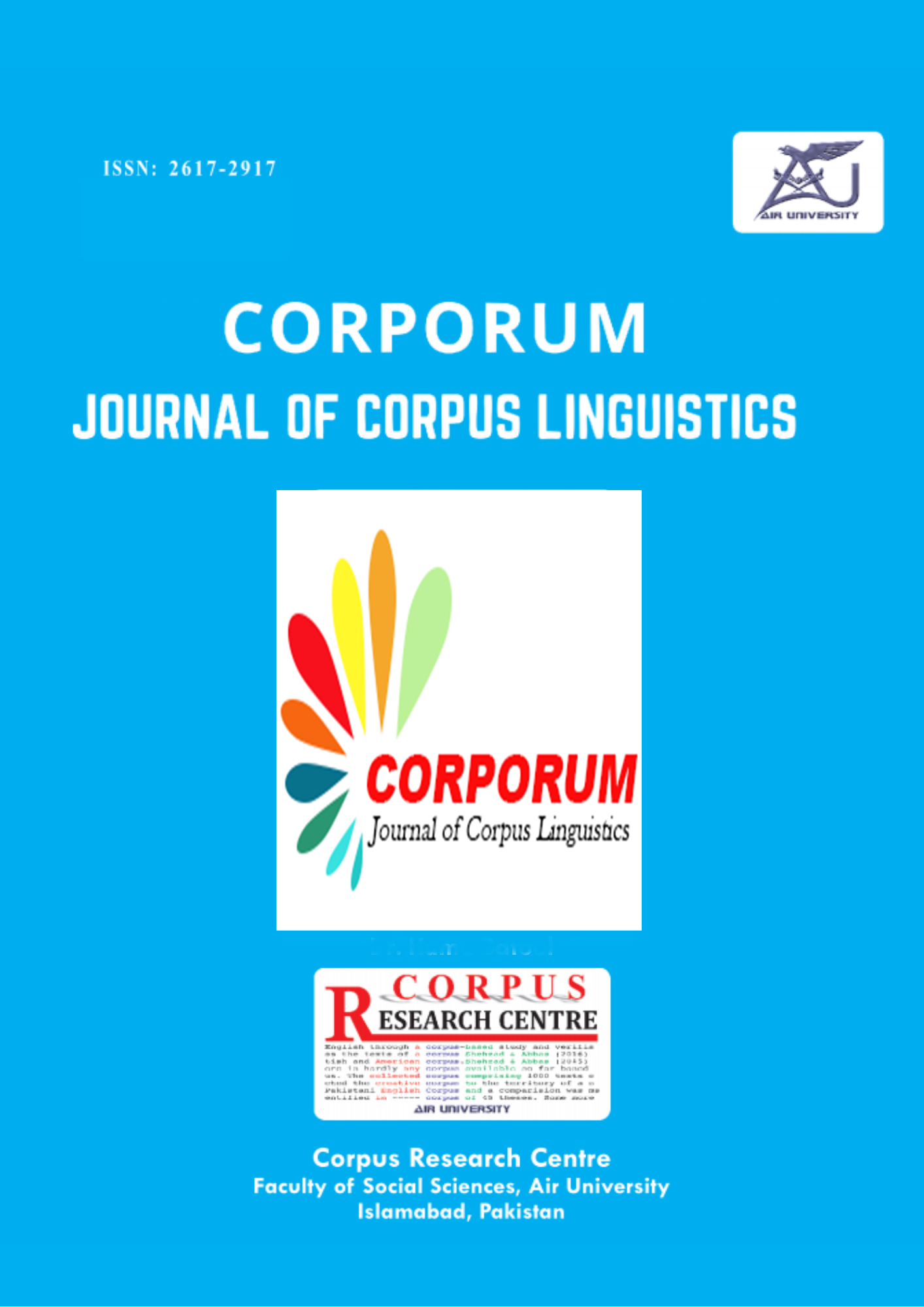 Published
2020-06-18 — Updated on 2020-07-02
How to Cite
1.
Munir S. A Corpus Based Study of Phrasal Verbs of Go in Mohsin Hamid's Fiction: Study of Phrasal Verbs of Go in Mohsin Hamid's Fiction. Corporum [Internet]. 2020Jul.2 [cited 2022Jan.28];1(1):56-69. Available from: https://journals.au.edu.pk/ojscrc/index.php/crc/article/view/32