Metadiscursive Practices: A Corpus-Based Study of Attitude Markers in Pakistani English Book Reviews
Attitude Markers in Pakistani English Book Reviews
Keywords:
attitude markers, book reviews, metadiscursive practices
Abstract
Book reviews have predominantly become one of the influential writings to reflect the general attitude/stance of a writer regarding a certain text. The ability of a writer to instigate acertain image of a text in the mind of the reader through a distinctive variety of linguistic expressions has become one of the crucial topics in the domain of academic discourse.Embedded in the theory of metadiscourse, this paper follows a corpus-based approach to linguistically analyse the metadiscursive nature of attitude markers in Pakistani English book reviews as postulated by Hyland (2004) in his generated list of interactional attitude markers.This paper analyses different linguistic categories as forms of attitude markers which book reviewers employ to project their stance. The present study not only focuses on the personal mention of authors through "I", but also explores other modes of attitude markers through which the authors have interpreted, explained, paraphrased, or presented their personal points of view (Hyland, 2004). The data of this paper comprises of fifty randomly selected English book reviews that were extracted from highly certified Pakistani English Newspapers that are, Dawn, The News and Express Tribune. Making this study corpus-based in nature, this paper also presents a raw frequency of attitude markers used within the texts. The result of the study shows
that out of 100 book reviews which make 76000 words in total, a total number of 852 words are assigned to attitude markers ranging from personal mention to adverbs and adjectives which variedly reflect the defined role of authorial stance within texts. In a nutshell, book reviews have a high potential for expanding academic discourse as writers continue to use linguistic categories to project their perspectives regarding a certain phenomenon in texts.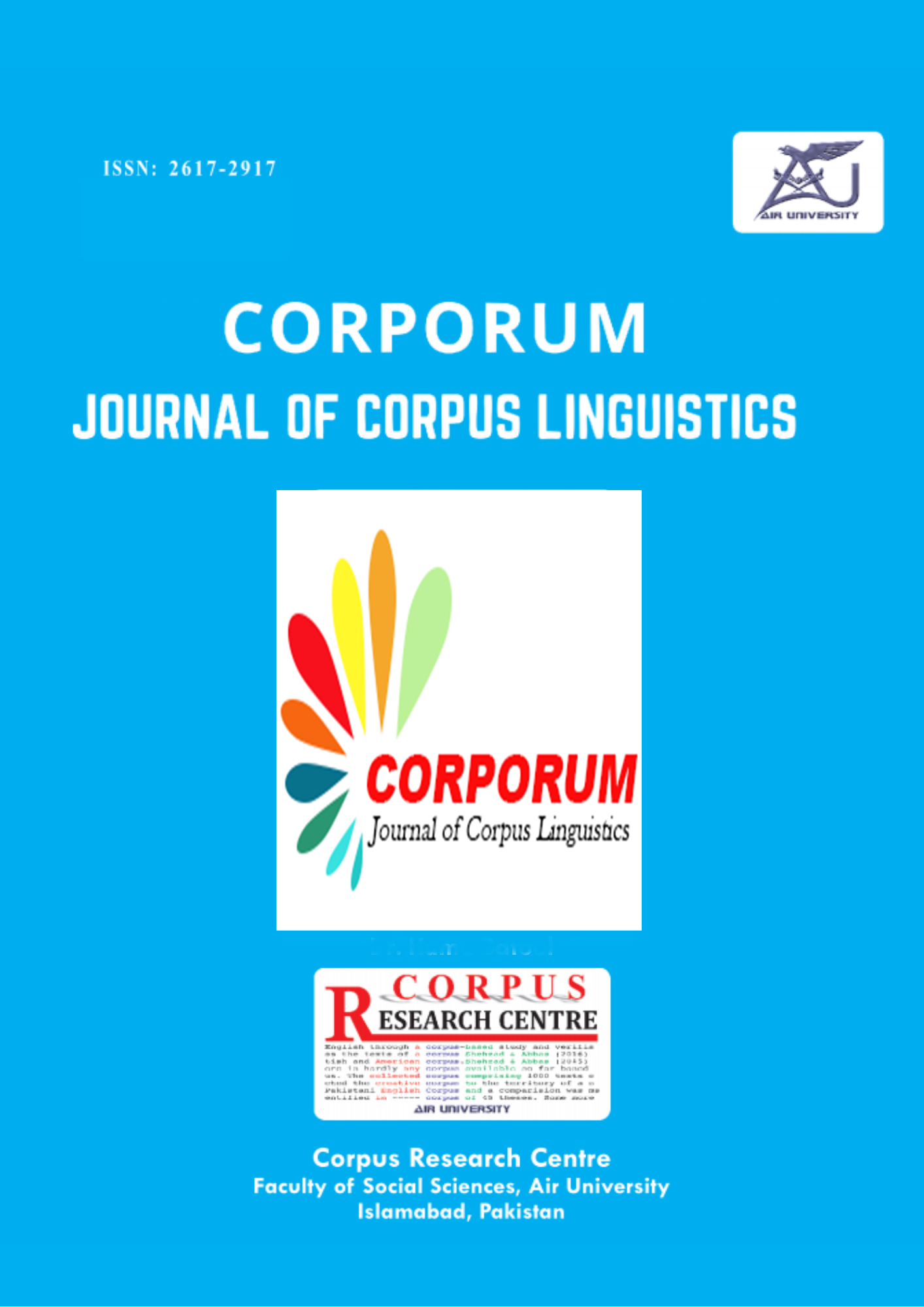 Published
2020-06-18 — Updated on 2020-07-02
How to Cite
1.
Aib I, Zahra DT. Metadiscursive Practices: A Corpus-Based Study of Attitude Markers in Pakistani English Book Reviews: Attitude Markers in Pakistani English Book Reviews. Corporum [Internet]. 2020Jul.2 [cited 2022Jan.28];1(1):15-28. Available from: https://journals.au.edu.pk/ojscrc/index.php/crc/article/view/29