A Corpus-based Study of Newspaper Articles on Lockdown Issue in Indian Occupied Kashmir
Keywords:
Critical Discourse Analysis, Newspapers, Ideologies, Corpus Analysis, Concordance, Kashmir
Abstract
The current study seeks to explore and analyze the role of newspapers in constructing
ideologies. The construction of ideologies is a discursive practice which has been given a
specific worldwide focus in the field of discourse studies and corpus linguistics. Newspapers,
tabloids and magazines are the immediate sources of information that have a wider influence on
people all over the world. In this regard, headline articles from two Pakistani newspapers – The
Dawn and The News – have been selected. 10 headline articles are selected from the Dawn
and 12 headline articles are selected from The News with a particular focus on the current
lockdown issue in Indian Occupied Kashmir (IOK). The selected data are processed through
AntConc, a corpus tool to retrieve and analyze concordance lines. The Critical Discourse
Analysis (CDA) with a particular focus on Van Dijk's (1988) concept, which is called
"Structures of News in Press," is used as a framework for the analysis of attained concordance
hits. In addition to this, some tools, namely: naming and referencing, hyperbole, implicature,
generalization and reconstruction, given by Richardson (2007), have been applied in addition to
the framework proposed by Van Dijk for a refined and improved analysis to explore the
discursive construction of ideologies The findings reveal that through the naming technique,
the Dawn editorials have portrayed a negative image of India, while a soft image of Pakistan.
However, The News editorials have remained neutral in this regard. The overall analysis depicts
that both newspapers have presented Pakistan as supporter and savior of Kashmiri people and
India as a manipulator inflicting cruelty in Kashmir. It is recommended that the use of corpus
tools in analyzing data from newspapers and then conducting critical discourse analysis are
effective ways of unearthing hidden ideologies, which can be extended to future research at a
broader scope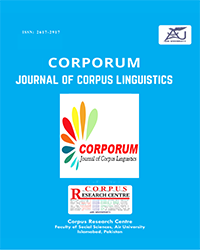 How to Cite
1.
Ahmad S, Jamshaid K, Ammar A. A Corpus-based Study of Newspaper Articles on Lockdown Issue in Indian Occupied Kashmir . Corporum [Internet]. 2023Jun.4 [cited 2023Dec.3];6(1):22-37. Available from: https://journals.au.edu.pk/ojscrc/index.php/crc/article/view/241