Lexicogrammatical Features of Covid-19: A Syntagmatic and Paradigmatic Corpus Based Analysis
Keywords:
Lexicogrammar, Paradigmatic relations, Syntagmatic relations and Systemic Functional Grammar
Abstract
The outbreak of Covid-19 has influenced people worldwide and has led to generate a bulk of literature in the form of awareness campaigns, research reports, blogs, etc. The text and corpus produced, thus is of interest to the language researchers and linguists. According to Halliday and Matthiessen (2014), the corpus of a language helps to theorize the language as it provides authentic, representative, and quantitative data. The word Covid-19 since its coinage appears in the corpora as a lexeme with a particular grammatical structure. This study focuses on the lexicogrammar of the node word Covid- 19 in the Covid-19 corpus of 224,061,570 words available on the Sketch Engine. The design of this research focuses on the perspective of systemic functional grammar to analyze the paradigmatic and syntagmatic relations of the word Covid-19. We found that it occurred 423× times as a noun in the corpus of 1.51 per million tokens. The word-sketch of Covid-19 includes infect, spread, fight as syntagmatically related and the words pandemic, epidemic, disease, outbreak, case as paradigmatically related. However, the same lexeme may enter into both relationships like Covid-19 and disease, Covid-19 and epidemic. They enter into a systemic contrast, and they also collocate. The lexico-grammatical environment of Covid-19 in the corpus shows the dichotomy of emergency and safety; chaos and health care responsibility; and pandemic and health care systems. This analysis helps in understanding how lexico-grammatical systems and structures relate to the meaning-making process.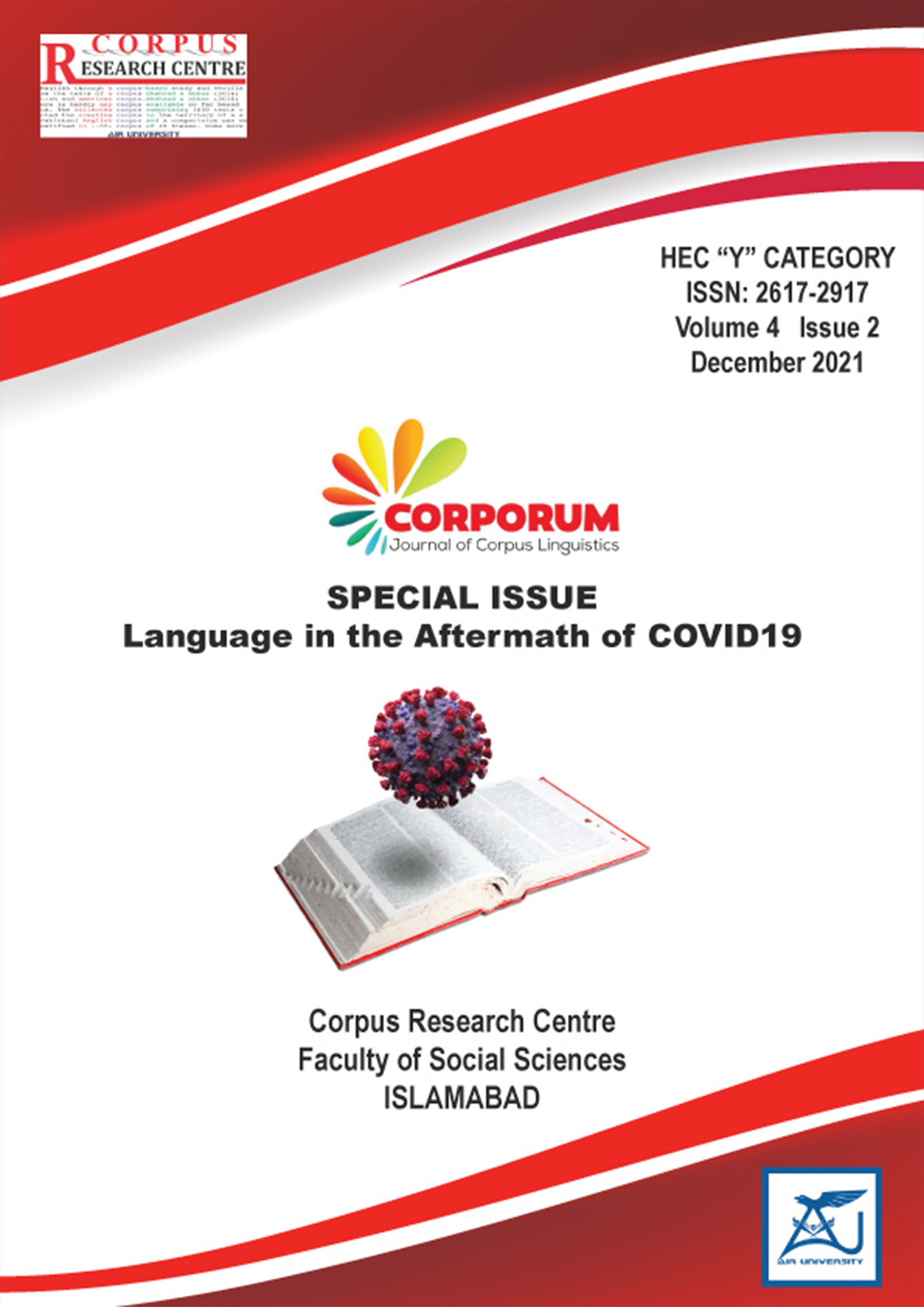 How to Cite
1.
Irshad S, Arshad S, Saba K. Lexicogrammatical Features of Covid-19: A Syntagmatic and Paradigmatic Corpus Based Analysis. Corporum [Internet]. 2021Dec.24 [cited 2022Jan.29];4(2):76-94. Available from: https://journals.au.edu.pk/ojscrc/index.php/crc/article/view/167