The Use of Intensifiers in the Aftermath of COVID-19 Pakistani Tweets:
An Analytical Comparison Between Pakistani Tweets and Contemporary English Speech (COCA)
Keywords:
intensifiers, semantic prosody, adjectival collocation, COCA, COVID-19, tweets, and Pakistani corpus
Abstract
This research studies the use of intensifiers in the aftermath of COVID-19 tweets by Pakistani Twitter users (using English as non-native English speakers). It further compares the use of intensifiers in Pakistani tweets with that of the contemporary English speech data, popularly known as COCA. Three types of analyses (distributional analysis, adjectival collocations, and semantic prosody) have been performed on the target (COVID-19 Pakistani tweets) and reference (COCA) data. Most frequently occurring intensifiers in the Pakistani English tweets are 'very' (Urdu بہت) and 'so' and these results correspond with the American contemporary data. The data was analyzed in terms of 'adjectival collocations' as well. To see the combination of the frequently occurring intensifiers with the neighboring adjectives, five most frequently used adjectives (good, true, nice, bad, and hard) were examined in both the reference and the local tweets data. The results bring forth different patterns of adjectival collocation in the reference and target data. The intensifier 'so' hasn't been coupled with 'bad and 'hard' in the target data. Similarly, 'very' hasn't been combined with 'nice' and 'hard' in the target data. In the reference data, 'very' is used with all the adjectives; however, 'so' doesn't occur with the selected adjectives. The results of 'semantic prosody' data reveal some differences and similarities between the two corpora. The results align with the previous researches (Ito and Tagliamonte, 2003, and Tagliamonte and Roberts, 2005) that suggest 'very', 'really', and 'so' as the topmost intensifiers used in the British and the American data. The study of adjectival collocation and semantic prosody in the reference and the local tweets data allow us to infer that the study can be valuable for the academicians and social media users as it highlights striking differences between the two corpora. Further, this study can be expanded into different dimensions using different types of data in order to find generalized patterns in the native English and Pakistani social media data.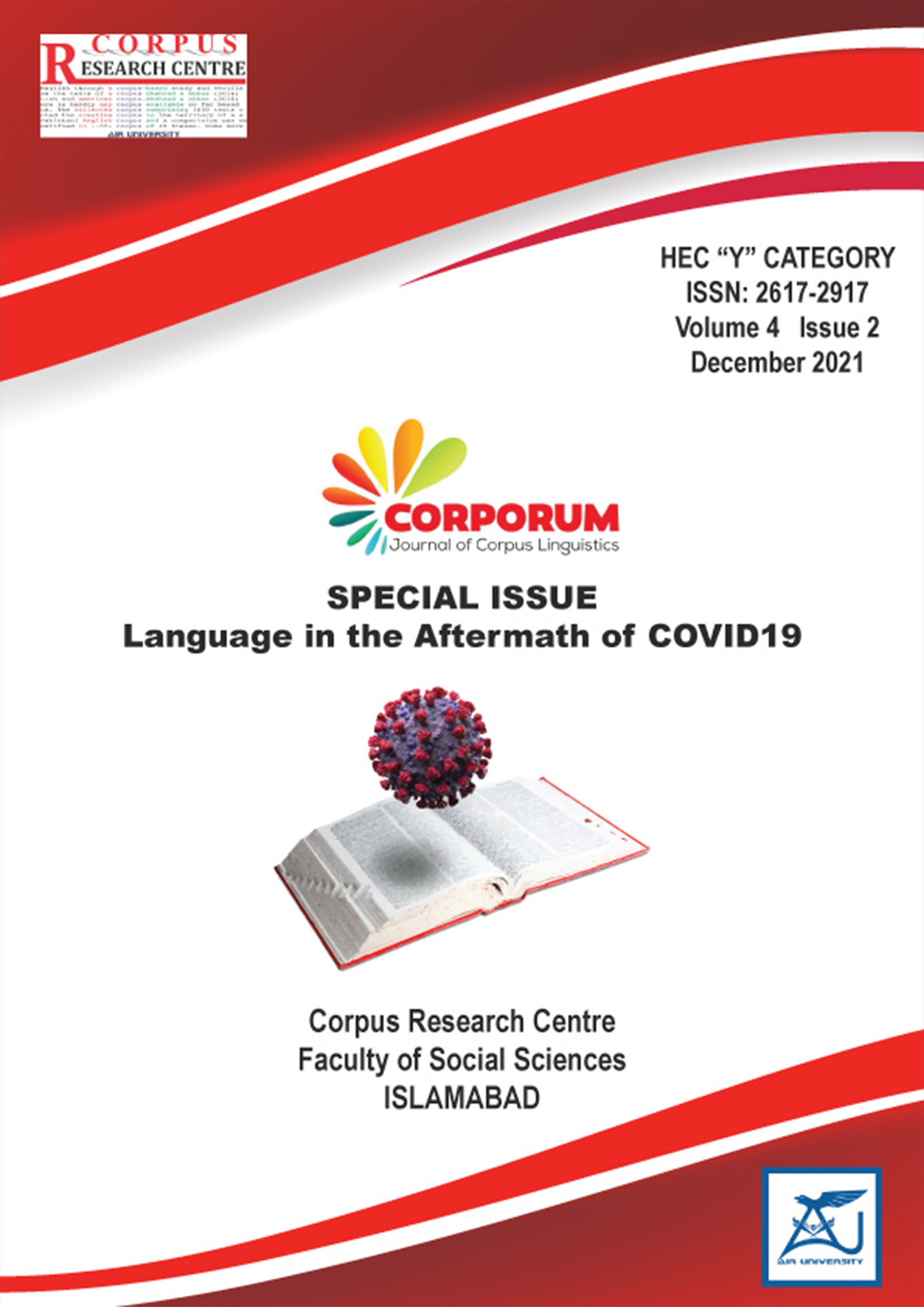 How to Cite
1.
-ul-Ain Q, Fatima Alvi U. The Use of Intensifiers in the Aftermath of COVID-19 Pakistani Tweets:: An Analytical Comparison Between Pakistani Tweets and Contemporary English Speech (COCA). Corporum [Internet]. 2021Dec.24 [cited 2022Jan.29];4(2):01-18. Available from: https://journals.au.edu.pk/ojscrc/index.php/crc/article/view/163