Exploring Authorial Voice in Verb-Control Citations: An Inter-disciplinary Study of Ph.D. Theses
Keywords:
academic discourse, verb-control citation, reporting verbs, factives, non-factives, counter-factives.
Abstract
Verb-Control citations signify purposeful communication between the theses writers and readers.
The earlier researches on references or citations used in theses and research articles focused on
showing differences in general, lesser data, and partial analysis (Jalilifar, 2012). Furthermore, the
research on Verb-Control citations/reporting verbs (Factives, Non-Factives, Counter-Factives)
needs to be explored in Pakistan's academic context. This research explores the Ph.D. theses,
deliberating over the choice of reporting verbs employed as Verb-Control citations. The study was
conducted across Ph.D. dissertations namely, English (Linguistics, Literature), English Language
Teaching (ELT), Biological Studies (Bio-Technology, Botany, Zoology), and Social Sciences
(Education, Psychology, Political Science) in a non-English academic environment. AntConc was
employed to analyze the data. Thompson &Ye's (1991) study, "Evaluation in the reporting verbs
used in academic papers", was used as a theoretical model. Hence, the writers of the Ph.D. theses
were found more inclined to use Non-Factives as against other forms of reporting verbs. Besides
others, the basic reason behind these variations is the predominance of the verbs related to tests,
experimentations along with the words referring to scientific procedures in Biological Sciences.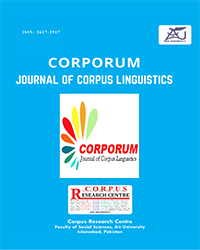 How to Cite
1.
Ijaz Ali Khan IAK, Ayaz Afsar AA. Exploring Authorial Voice in Verb-Control Citations: An Inter-disciplinary Study of Ph.D. Theses. Corporum [Internet]. 2021Jan.18 [cited 2022May21];3(1):69-81. Available from: https://journals.au.edu.pk/ojscrc/index.php/crc/article/view/92