Metadiscursive Study of Kashmir Issue through Attitude Markers in Pakistani English Newspapers
Keywords:
attitude markers, Hyland's model, metadiscourse markers, two Pakistani English newspapers
Abstract
Newspapers play a prominent role in changing the opinion of the masses through their persuasive markers. This corpus-based study aims to analyze frequencies and functions of attitude markers distributed in the editorial discourse of the Kashmir issue in two leading English newspapers of Pakistan namely The Dawn and The News. Twenty articles are selected through purposive sampling for this descriptive study to analyze the frequency and functions of Attitude markers: a subcategory of interactional markers of Hyland's Model (2005) in selected articles. This study also attempts to figure out whether the attitudinal markers are distributed similarly or differently in two corpora. The findings reveal that The Dawn employs more persuasive features to mold the opinion of the audience towards the Kashmir issue. The subcategories of AMs i.e. Expression of Obligation (EO) and Expression of Attitudes(EA) are found more in The Dawn than The News. Whereas, the third category Negation Expressing Counter Expectancy (NECE) is distributed equally in two corpora showing these two newspapers carry the same capabilities to position their stance with the help of negation markers.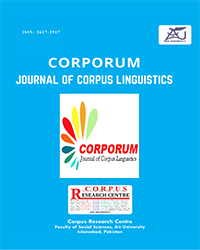 How to Cite
1.
Gulzar K, Khan SA, Imran R. Metadiscursive Study of Kashmir Issue through Attitude Markers in Pakistani English Newspapers. Corporum [Internet]. 2020Jul.18 [cited 2022May21];3(1):1-19. Available from: https://journals.au.edu.pk/ojscrc/index.php/crc/article/view/87