A Corpus Based Study of Citation Practices and Reporting Verbal Forms in Pakistani English Social Sciences Research Articles
A Corpus Based Study of Citation Practices and Reporting Verbal Forms in Pakistani English Social Sciences Research Articles
Keywords:
cognition acts, discourse acts, evaluative functions, integral citations, reporting verbs, research acts
Abstract
An individual's research is of no use unless and until it is put on the paper for the curious eyes and the critical minds. But to make a study persuasive and to put it in a context, one needs to have an integration of one's ideas with the previously conducted studies. Such integration of ideas helps the researchers to strengthen their point of view. For citation purpose, the use of reporting verbs carries different meanings and functions with it. The current paper is a corpusbased study, conducted to compile a corpus of literature review sections of Pakistani English research articles to explore the citation practices with a focus on different forms and functions of Reporting verbs as used in these sections. Using AntConc (3.2.1) and Sketch engine concordance program, a corpus of 157,997 words was searched to find different forms of Reporting verbs followed by a discussion of evaluative functions attached to these RVs. A total number of 65 Reporting verbs were identified used for 781 times occurring in different patterns.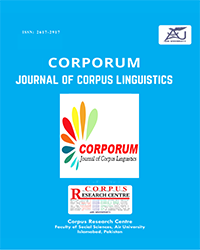 Published
2020-06-18 — Updated on 2020-07-02
How to Cite
1.
Iqbal kayani A, Anwar B. A Corpus Based Study of Citation Practices and Reporting Verbal Forms in Pakistani English Social Sciences Research Articles: A Corpus Based Study of Citation Practices and Reporting Verbal Forms in Pakistani English Social Sciences Research Articles. Corporum [Internet]. 2020Jul.2 [cited 2022Jan.28];2(2):38-54. Available from: https://journals.au.edu.pk/ojscrc/index.php/crc/article/view/48