Conspiracy Theories (CT) vs Truth Based Reporting: A Corpus Driven Analysis of Covid-19 Online Newspaper(s) Discourse
Keywords:
Chinese, claims, conspiracy, corpus, Covid, theory, post-truth, psychological.
Abstract
In the backdrop of the emergence of conspiracy theories (CT) during the critical days of the pandemic, the discourse of online CT goes unchallenged and has become part of mundane beliefs. The present study investigates the language/discourse of selected CT online newspaper stories related to the COVID 19 pandemic and compares it with truth-based covid-19 stories. AntConc 3.5.8 (Anthony, 2019) is used as a corpus linguistics tool to extract the keywords of the selected newspaper stories, as they are lexical signposts to reveal the most characteristic themes or 'aboutness' of the text. A list of keywords generated from the conspiracy corpus includes <China>, <theory>, <conspiracy>, <theories>, <Chinese>, <anti>, >claims>, <wuhan>, <psychological> and <virus>, while the truth-based corpus generated <truth>, <science>, <bullshit>, <posttruth>,<death>, <theory><model> and <covid> as keywords. The keyword list was a handy tool for directing investigators to identify significant lexical differences between both texts and these keywords were further investigated through cluster/N-Grams, concordance and finally for collocates in order to get a more realistic perspective of the keywords generated. Further results showed conspiracy, claims and psychological has co-occurred in the conspiracy corpus and truth and post-truth co-occurred in the truth-based corpus.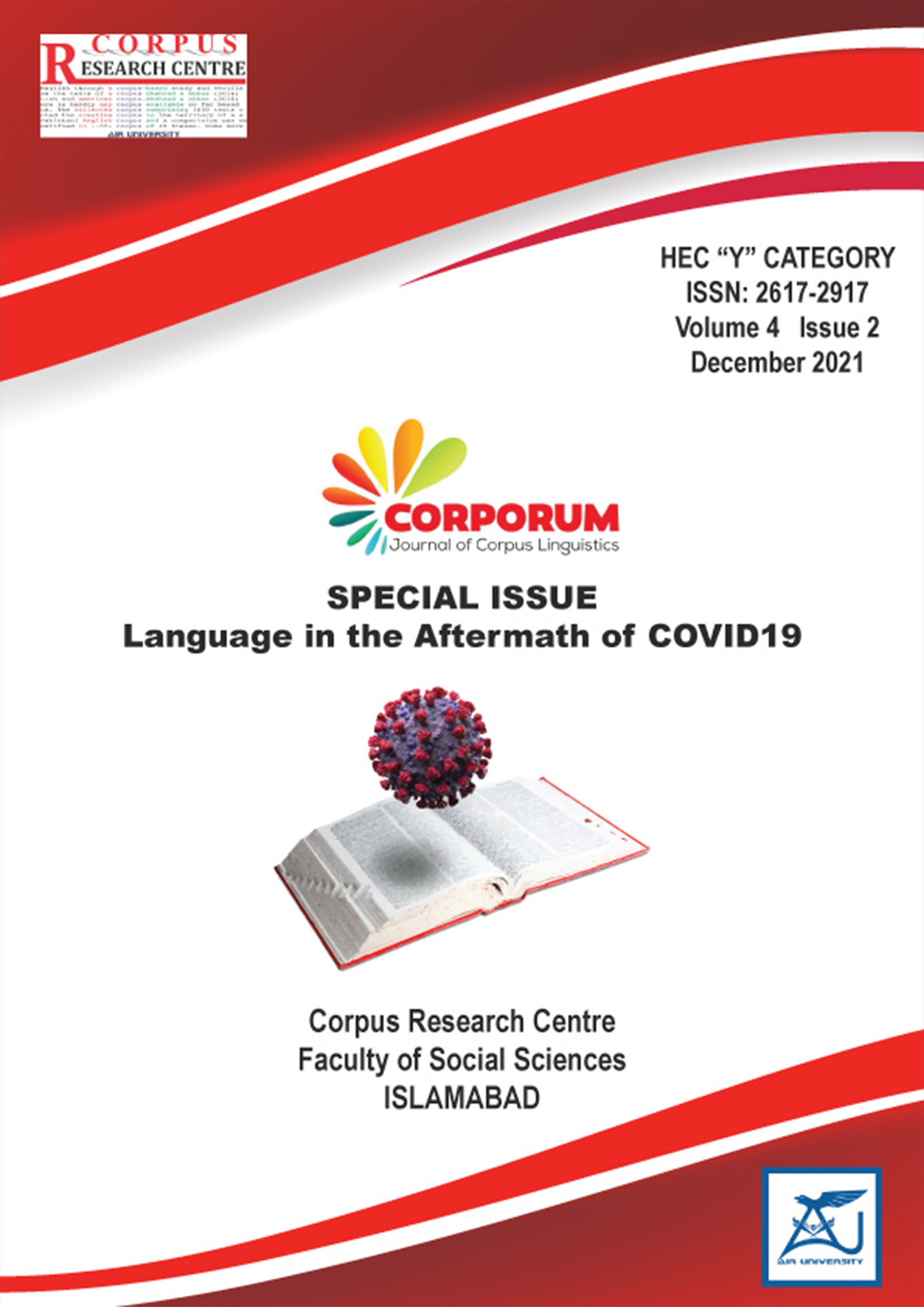 How to Cite
1.
Ullah Shaheen Z, Qadeer A, Rehman Khan F. Conspiracy Theories (CT) vs Truth Based Reporting: A Corpus Driven Analysis of Covid-19 Online Newspaper(s) Discourse. Corporum [Internet]. 2021Dec.24 [cited 2022Jan.29];4(2):112-35. Available from: https://journals.au.edu.pk/ojscrc/index.php/crc/article/view/169