Disease and Conceptual Metaphors: A Corpus Analysis of English Newspaper Articles Related to COVID-19
Keywords:
Conceptual Metaphor, Covid-19, Conceptualization, CMT, and Pakistani English newspapers
Abstract
Metaphors are not just ornamental tools; they are fundamentally a reflection of human thought and embodiment. Based on the notion that metaphors are cognitive processes that reflect cognitive vision to understand human concepts through language, the current study is aimed at identifying Covid-19 conceptual metaphors in media discourse. To evaluate the metaphorical use of language, a corpus of three Pakistani English newspaper articles published in March 2020 was created. The needed data is extracted and analyzed using the corpus tool AntConc and the theoretical framework of Conceptual Metaphor Theory given by Lakoff and Johnson (1980). The results of the study demonstrate that the conceptual metaphor Covid-19 as war is excessively utilized in the Covid-19 editorial text. Whereas, other conceptual metaphors are also observed in the corpus, like Covid-19 as a killer, Covid-19 as a possession, and Covid-19 as an earthquake. The findings also reveal that the newspaper articles reflect persuasive ideology. Therefore, while stating the facts and figures, the use of metaphoric expressions is possibly used to instil seriousness among Pakistani public about Covid-19.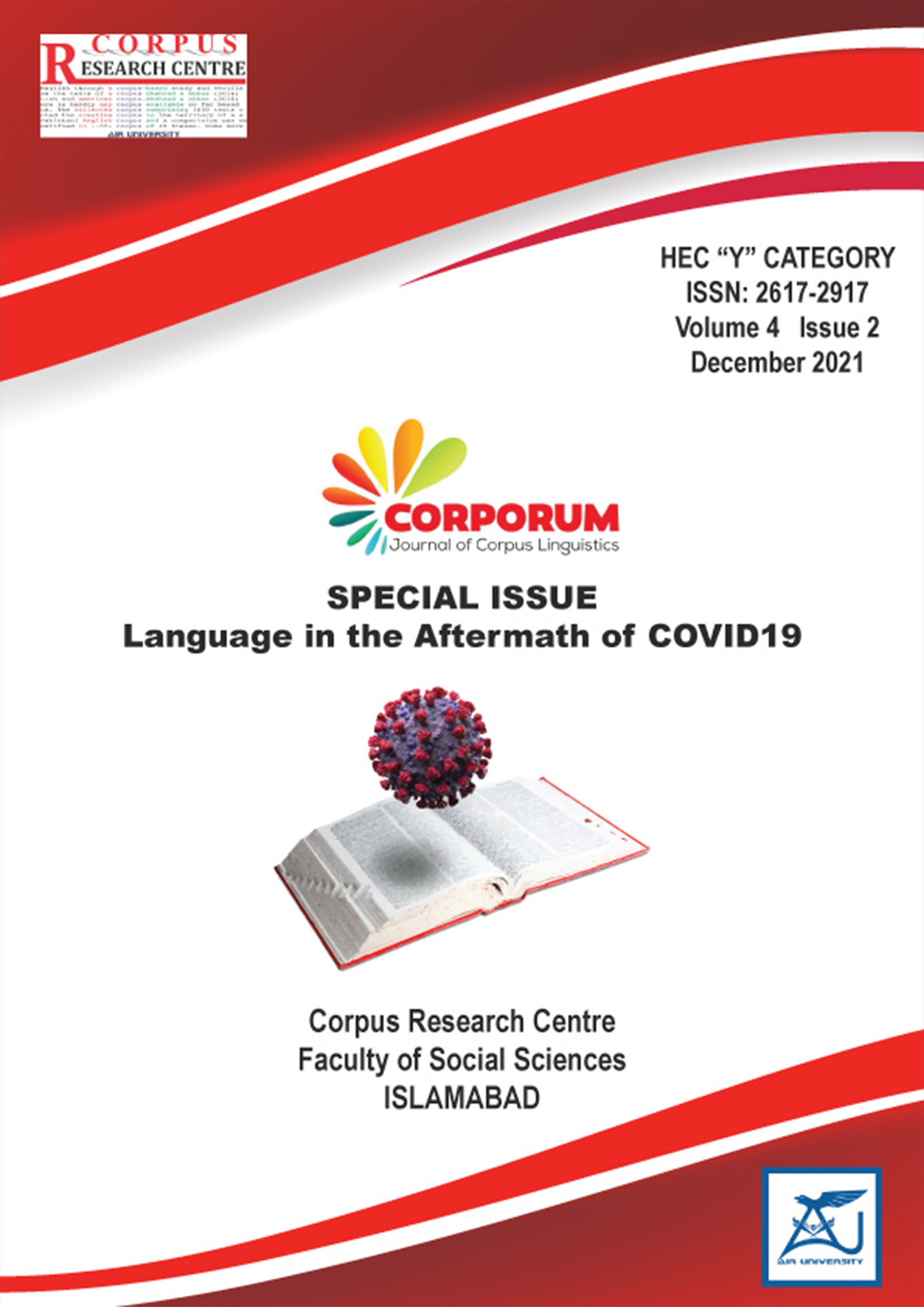 How to Cite
1.
Rasool S, Jan A, Noreen R. Disease and Conceptual Metaphors: A Corpus Analysis of English Newspaper Articles Related to COVID-19. Corporum [Internet]. 2021Dec.24 [cited 2022Jan.28];4(2):95-111. Available from: https://journals.au.edu.pk/ojscrc/index.php/crc/article/view/168