A Corpus-based Multidimensional Analysis of Linguistic Variation in Pakistani Newspapers Columns of Opinion during COVID-19
Keywords:
Columns of opinion, Covid-19, Language variation, MD Analysis and Pakistani press reportage and Registers
Abstract
Growing research of language variation has resulted into the recognition of registers or language used in various everyday situations. The present-day pandemic of COVID- 19 is one of these situations which have affected the use of language Therefore; this study has attempted to detect the effect of Covid-19 on the language of leading newspapers in Pakistani print media. It is a corpus study based on a quantitative approach to analyze the English language in the columns of opinion in the leading newspapers of Pakistan in the wake of Covid-19 published during the period of 15th March to15th August 2020. The research tools comprise computer-assisted corpora of about 2.6 lac words from the selected newspapers and the Multidimensional Analysis Tagger (MAT) with 67 linguistic features. The data has been collected through counting, normalization and standardization of frequencies of parts of speech co-occurring per thousand words as pointed out by Biber (1988). The data has been analyzed by factor analysis and calculation of dimension scores. The statistical ANOVA test has also been conducted to know the significance of variance. The results of this study have been compared with the results of the previous studies on Pakistani political columns and on press reportage in Pakistani print media. The comparison found that language use in Pakistani English newspapers during the COVID-19 is less informational, less narrative, more context-dependent, more overt expression of persuasion and less technical, informal and abstract than the language of political columns and press reportage before COVID- 19.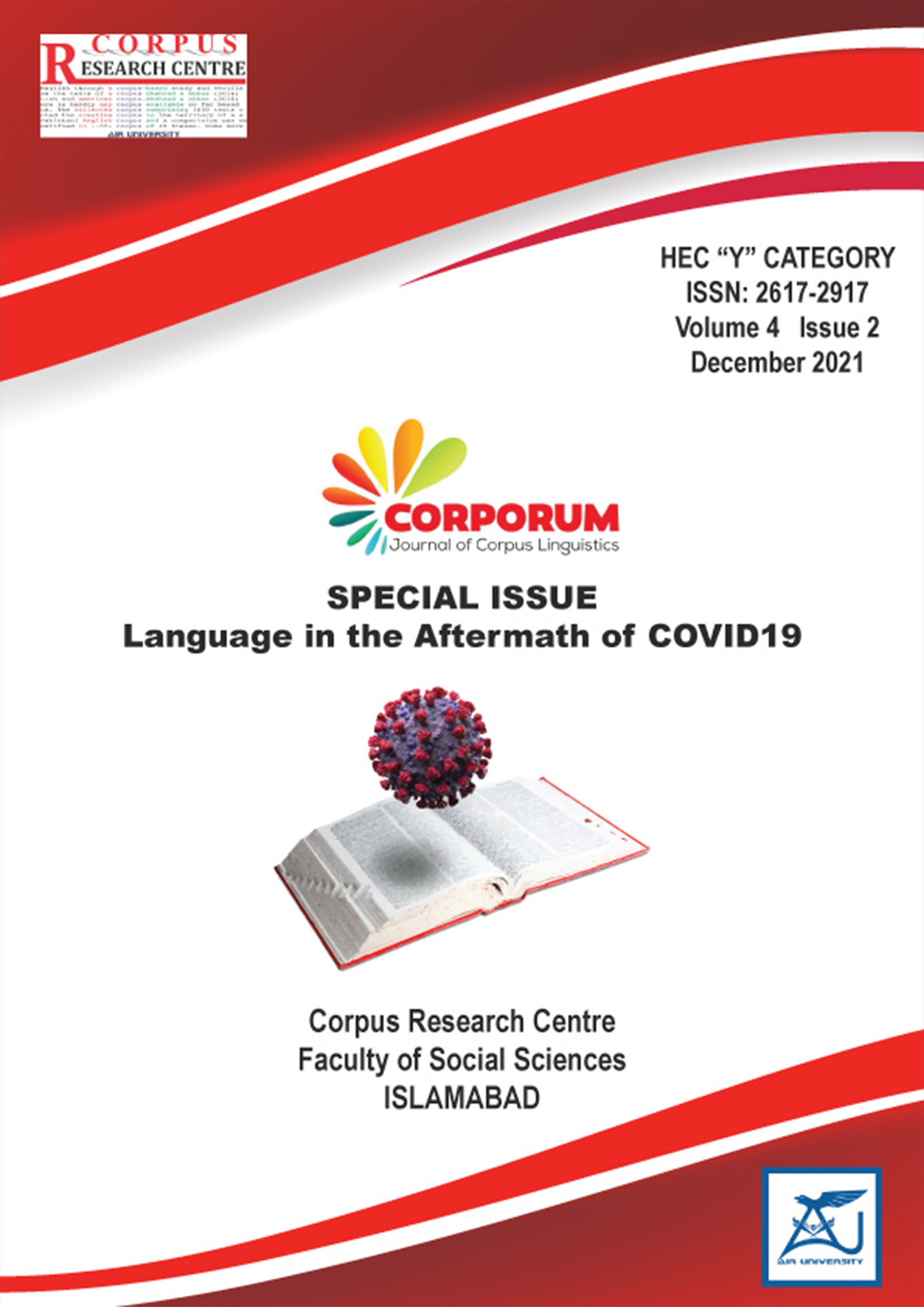 How to Cite
1.
Ijaz M, Tahir A, Ahmed S. A Corpus-based Multidimensional Analysis of Linguistic Variation in Pakistani Newspapers Columns of Opinion during COVID-19. Corporum [Internet]. 2021Dec.24 [cited 2022Jan.28];4(2):59-75. Available from: https://journals.au.edu.pk/ojscrc/index.php/crc/article/view/166