Fostering Digital Entrepreneurship through Entrepreneurial Perceptions: Role of Uncertainty Avoidance and Social Capital
Keywords:
Technology, Digital Entrepreneurship, Innovative Practices, Social Capital, Un- certainty Avoidance, Entrepreneurial Perceptions and Innovation.
Abstract
Technology has transformed the business model of simple entrepreneurship into
a new form of digitalization. Technology has revolutionized business methods with inno-
vative practices in the entrepreneurship world. Previous studies have identified various factors that support the concept of digital entrepreneurship. Still, the role of social capital and uncertainty avoidance requires further explanation through a path of entrepreneurial perceptions. Therefore, this study tries to identify the effect of social capital and uncertainty avoidance on digital entrepreneurship through entrepreneurial perceptions (collaborative, operational and planning). Data were collected from 316 managers of small and medium enterprises. The findings explain that social capital and uncertainty avoidance significantly impact operational and planning perceptions of digital entrepreneurship. The findings provide various theoretical, practical, and policy-making implications and directions to the future researcher.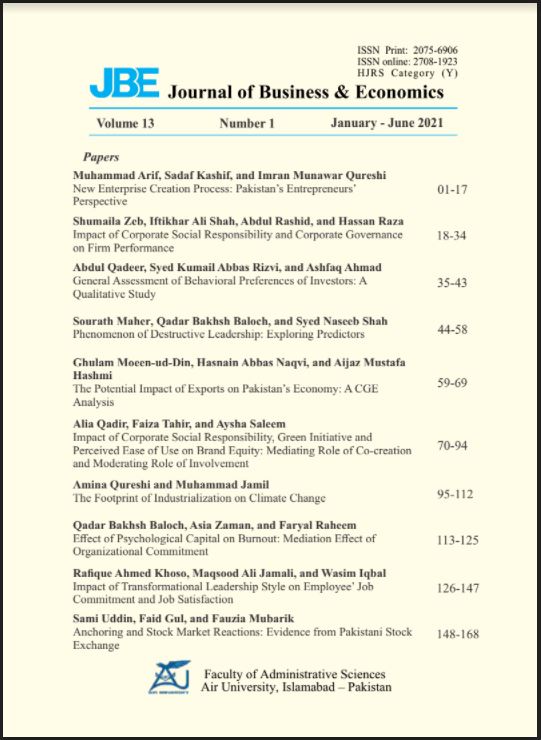 Published
2021-12-31 — Updated on 2022-06-21
How to Cite
Iqbal Khan, K., Tariq, M., & Mahmood, S. (2022). Fostering Digital Entrepreneurship through Entrepreneurial Perceptions: Role of Uncertainty Avoidance and Social Capital. Journal of Business & Economics , 13(2), 103-124. Retrieved from https://journals.au.edu.pk/ojs/index.php/jbe/article/view/432 (Original work published December 31, 2021)