Nexus between Diversification and Banking Efficiency in Developing Economies
Keywords:
Bank Efficiency; Data Envelopment Analysis; Revenue Diversification; Quan- tile Regression; Non-Performing Loans.
Abstract
Banking efficiency is becoming more vital in a world where international marketplaces are becoming increasingly competitive. This premise lays the groundwork for achieving the study's goal. The major goal of this research is to look at the link between Pakistan's Revenue Diversification and banking efficiency over the period 2008 to 2019.
Their banking efficiency is poor in comparison to other nations; hence there is a need to improve it. In this regard, this research first examines the technical BE using a modified version of Aparico et al., (2015) by using the Data Envelopment Analysis. To accomplish so, the researchers used a Directional Distance Function model, which offers estimates of efficiency, with an emphasis on Non-Performing Loans as an undesirable output. This research uses quantile regression to assess the influence of diversification on banking effi- ciency in the second portion of theinvestigation. As a consequence, the findings revealed that it has a significant influence on bank technical efficiency. Other efficiency drivers have a significant impact on the bank's performance as well. These findings have significant strategic implications for bank executives, regulators, and policymakers who all want to improve bank efficiency and stability.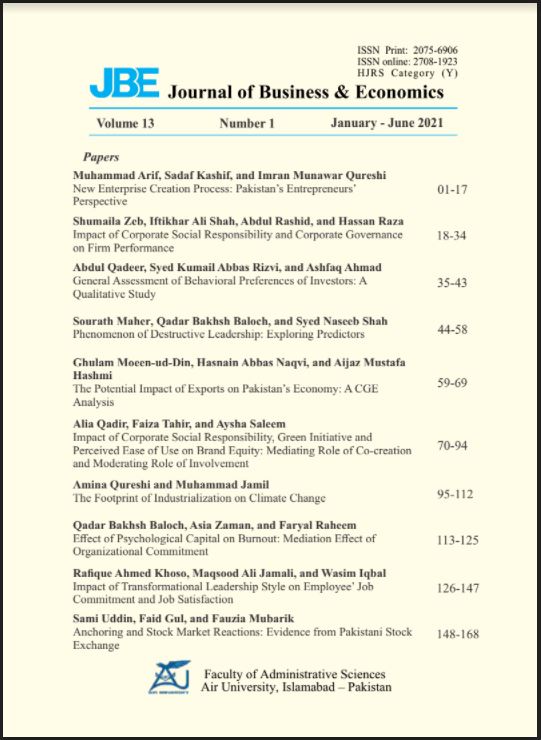 Published
2021-12-31 — Updated on 2021-12-31
How to Cite
Nexus between Diversification and Banking Efficiency in Developing Economies. (2021). Journal of Business & Economics | ISSN (print): 2075-6909 | ISSN (online): 2708-1923, 13(2), 34-49. Retrieved from https://journals.au.edu.pk/ojs/index.php/jbe/article/view/428