Pharmaceutical and Transportation Stocks Under the Coronavirus 2019 (Covid-19) Pandemic: Evidence from Pakistan
Keywords:
COVID-19, Pharmaceutical Companies, Transport Companies, Momentum Effect, Contrarian Effect
Abstract
The Coronavirus Diseases 2019 (COVID-19) outbreak has resulted in a huge amount of
investment losses to the global economy but as per rational belief the sector that could give positive
returns during this pandemic is pharmaceutical whereas, the transport sector is believed to give substantial negative returns due to strict lockdown policy and restriction on transportation. Thus, this
study aims to investigate the impact of COVID-19 on the pharmaceutical and transport companies
listed on the Pakistan stock exchange and to determine the returns trend of the selected sectors in
comparison with the market index. The study has used the data set of daily closing stock prices
of ten pharmaceutical companies and four transport companies ranging from 06-June-2019 to 10-
December-2020 comprising 394 trading days. The empirical results show that the pharmaceutical
sector moved against its benchmarking index (contrarian effect) meanwhile, the stocks returns of
the transport sector moved along with its benchmarking index (momentum effect).Hence, it can be
concluded that pharmaceutical stocks showed a negative trend whereas, transport stocks showed
positive trend during the turbulence of COVID-19. Additionally, the findings from this study paper
contributes to nullifying the general hypothecation of pharmaceutical companies showing positive
returns and transport companies exhibiting negative returns during the COVID-19 pandemic.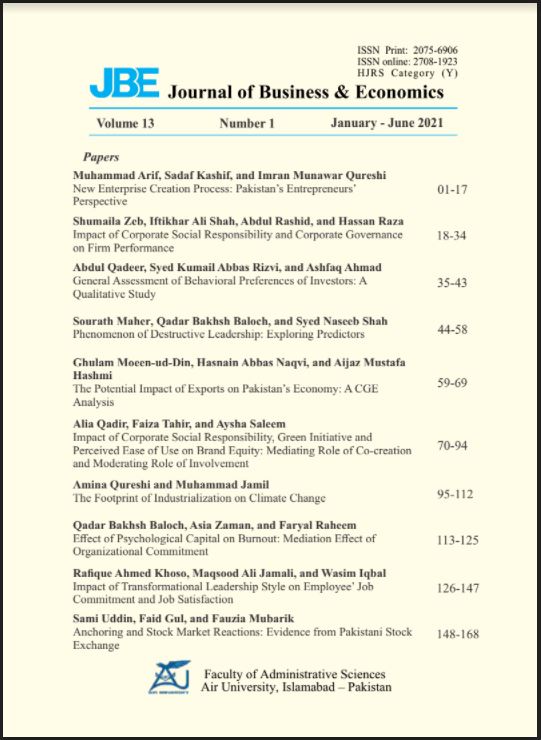 How to Cite
Pharmaceutical and Transportation Stocks Under the Coronavirus 2019 (Covid-19) Pandemic: Evidence from Pakistan. (2021). Journal of Business & Economics , 13(2), 01-15. Retrieved from https://journals.au.edu.pk/ojs/index.php/jbe/article/view/423