The Effect of Application of Language Teachers' Reflective Practices on Teaching Strategies
Teachers' Reflective Practices on Teaching Strategies
Keywords:
Reflection, Reflective teaching, Reflective practices, ESL/EFL, ELTs, Secondary school level, Language teaching
Abstract
The present study examines the present
state of the English language teachers'
reflective teaching strategies and its effect
on language teaching and learning at
secondary level. For the achievement of
more authentic results both qualitative and
quantitative data collection tools are used.
A total number of 302 male and female
English language teachers participated in
the study. Multiple regression analysis has
been applied to the data point out
relationship between dependent and
independent variables. The findings based
on stated methodology, revealed that
language teachers' reflective practices have
a significant effect on their teaching
strategies. It is found that, following
reflective strategies, proper training and
awareness related to reflective teaching
may lead to successful and effective
teaching methodologies and may lead to
teachers' professional growth and effective
language teaching skills.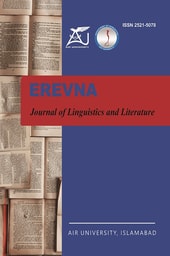 How to Cite
Riaz Ahmad, R. A., Ahmed, D. F., & Manshoor Hussain, M. H. (2020). The Effect of Application of Language Teachers' Reflective Practices on Teaching Strategies: Teachers' Reflective Practices on Teaching Strategies. Erevna: Journal of Linguistics and Literature, 2(1), 06-14. Retrieved from http://journals.au.edu.pk/ojserevna/index.php/erevna/article/view/45