Exploring the Factors Affecting Speaking Skills in the English Language: The Case Study of Rural Sindh Students
Keywords:
Speaking skills  AV- aids  English language  Rural Sindh  SPSS
Abstract
The main purpose of this paper was to explore the factors that
affect the speaking skills of rural Sindh students. The main
objectives of this study were to identify the teacher and
students" related factors that affect the speaking of the English
language of rural Sindh students. The research approach for
this study was quantitative and its nature was exploratory. The
study was conducted at Shaheed Benazir Bhutto University
located in District Shaheed Benazirabad (Sindh) it is a general
University that enrolled students from rural areas of Sindh.
Undergraduate students studying in different departments
including Chemistry, Information Technology, English,
Education, Media, and BBA were the population of this
research, from every department 50% of students were
selected with the help of random sampling. To gather
satisfactory information, the researcher used a questionnaire
as a tool. The questionnaire tool has been selected to conduct
data through closed-ended questions that were based on five
points, i.e. Likert scale. Data were analyzed in the statistical
package for social sciences (SPSS) version 20 software
through descriptive statistics such as frequency, percentage,
and tabulations. The study findings showed that various
factors such as anxiety, self-confidence, passive participation
in-class activities, lack of knowledge in L2, and lack of modern
resources such as AV-AIDS affect the speaking competence of
students in the English language. The current study
recommended that teachers should design speaking techniques
that may help and guide students to learn more effectively and
develop their speaking competence to boost their performance
in the English language Class. Further, they have to develop
favorable learning conditions for students and let them
practice their speaking English through speaking activities like
role-play and drama, debate competition, picture description,
etc.
References
References
Adayleh, H. (2013). The difficulties faced by English language and literature students at
Mu'tah university in mastering english language pronunciation. European Journal
of social science, 38(2), 205-209.
Brown, G., Gillian, B., Brown, G. D., & Yule, G. (1983). Teaching the spoken
language (Vol. 2). Cambridge University Press.
Chandio, M. T., & Jafferi, S. (2015). Teaching English as a Language Not Subject by
Employing Formative Assessment. Journal of Education and Educational
Development, 2(2), 151-171.
Crystal, D. (2003). English as a global language. Cambridge university press.
Dincer, A., & Yeşilyurt, S. (2013). Pre-service English teachers' beliefs on speaking skills
based on motivational orientations. English Language Teaching, 6, 88-95.
El Sagheer, A. (2001). Principles in teaching English as a foreign language. English South
Valley Publication.
Farooqui, S. (2007). Developing speaking skills of adult learners in private universities in
Bangladesh: problems and solutions. Australian Journal of Adult Learning, 47(1),
-110.
Harmer, J. (1991). The practice of English language teaching. (3rd ed.). Longman: London
and New York Johnson.
Islam, M. T. (2013). First language acquisition theories and transition to SLA. In The Asian
Conference on Language Learning 2013 Official Conference Proceedings (pp. 499-
.
Javid, C. Z., Farooq, U., & Gulzar, M. A. (2012). Saudi English-major undergraduates and
English Teachers' perceptions regarding effective ELT in the KSA: A Comparative
Study. European Journal of Scientific Research, 85(1), 55-70.
Khazaei, Z. M., Zadeh, A. M., & Ketabi, S. (2012). Willingness to Communicate in Iranian
EFL Learners: The Effect of Class Size. English Language Teaching; 5(11).
Mari, M., Pathan, H., & Shahriar, A. (2011). Willingness to communicate in L2: A
perception of Pakistani university students. ELF Annual Research Journal, 13, 65-
Mustafa, U., Memon, J. A., & Khalil, H. (2015). Skill Disconnect in Sindh. Manchester,
England: British Council.
Mukattash, L. (1983). The problem of difficulty in foreign language learning. In Papers
from the First Conference on the Problems of English Language and Literature at
Arab Universities, University of Jordan (pp. 145-175).
Nunan, D. (1999). Second language teaching and learning. Heinle & Heinle Publishers.
Oxford, R. L. (2002). Language learning strategies in a nutshell: Update and ESL
suggestions. Methodology in language teaching: An anthology of current
practice, 4(3), 124-132.
Naz et al.
Erevna: Journal of Linguistics & Literature Volume 6 Issue 1 152
Pal, C. (2015). Factors affecting students" learning English speaking skills: A casecondyeard year students of English department in Gambela College of Teachers
Education. (Unpublished MA thesis). AAU.
Park, H., & Lee, A. R. (2005). L2 learners' anxiety, self-confidence and oral performance.
In Proceedings of the 10th Conference of Pan-Pacific Association of Applied
Linguistics (pp. 107-208).
Patil, Z. N. (2008). Rethinking the objectives of teaching English in Asia. Asian EFL
Journal, 10(4), 227-240
Rahman, T. (1996). Language and politics in Pakistan. Oxford University Press, USA.
Siraj, d. A. (2009). Sindhi language. Hyderabad, Pakistan: Sindhi Language Authority.
Tarone, E., Swierzbin, B., & Bigelow, M. (2006). Impact of literacy level on features of
interlanguage in oral narratives. Impact of Literacy Level on Features of
Interlanguage in Oral Narratives, 1000-1013.
Thornton, J. G. (2009). Learning English as a second language in South Korea: Perceptions
of 2nd year college and university students and their English speaking
instructors. Education of Second Language Learning at the Graduate School of the
University of Southern Queensland.
Ur, P. (1996). A course in language teaching: Theory and practice. Great Britain.
Cambridge University Press.
Vietnam, V. (2015). Factors affecting students' speaking performance at Le Thanh Hien
high school. Asian Journal of Educational Research, 3(2).
Citation of this paper
Naz, S. Jalbani, N., & Jarah, A. A. (2022). Exploring the factors affecting speaking
skills in the English language: The case study of rural Sindh students.
Erevna: Journal of Linguistics and Literature 6(1), 127-152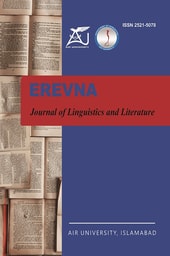 How to Cite
Sadia Naz, Nadeem Jalban, & Ayaz Ali Jarah. (2022). Exploring the Factors Affecting Speaking Skills in the English Language: The Case Study of Rural Sindh Students. Erevna: Journal of Linguistics and Literature, 6(1), 127-152. Retrieved from https://journals.au.edu.pk/ojserevna/index.php/erevna/article/view/303