Preposition Phrase Expressions: A Corpus-Based Study of Lexical Bundles in Pakistani Textbooks
Phrase Expressions: A Corpus-Based Study of Lexical Bundles in Pakistani Textbooks
Keywords:
corpus-based study, English for academic purposes, English language teaching, lexical bundles, Pakistani textbooks, preposition phrase expressions
Abstract
Recurring strings of words known as lexical bundles (LBs) such as on the other hand, at the end
of, are a significant defining feature of academic discourse and important constituents of fluent
linguistic production. Although neither idiomatic nor complete grammatical structures, lexical
bundles function as basic building blocks of discourse. It is a general perception that Pakistani
students at the higher secondary school level are not well aware of lexical bundles used in
academic writing. They are thus presumably not proficient enough in utilizing lexical bundles in
academic discourse. Lexical bundles in different generes have been extensively studied in
relation to written and spoken language. However, little research has been conducted to explore
the occurrence, nature, and frequency of lexical bundles in Pakistani academic discourse,
especially in textbooks. The present study therefore aimed to investigate four-word Prepositional
Phrase lexical bundles used in Pakistani higher secondary school textbooks in order to explore
their numbers, frequencies and functional taxonomies. For data collection, specialized corpora
were built from the textbooks of physics and chemistry used at a higher secondary school (HSC)
level. AntConc (3.5.2 windows 2018) software was used for the extraction of the bundles. The
study found twenty common core preposition phrase expressions or lexical bundles. The
respective lexical bundles have been analyzed functinally and examples have been taken form
textbooks. The findings related to frequent strings of words and their possible variations in use
have great pedagogic implications for teachers of English in general, English for academic
purposes: for HSC level learners and specific academic purposes: enriching writing in relation to
physics and chemistry. The study recommends using lexical bundles to enhance students'
academic writing and their ability of comprehending different types of texts.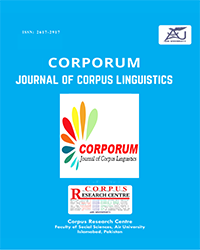 How to Cite
1.
Hussain G. Preposition Phrase Expressions: A Corpus-Based Study of Lexical Bundles in Pakistani Textbooks: Phrase Expressions: A Corpus-Based Study of Lexical Bundles in Pakistani Textbooks. Corporum [Internet]. 2020Jun.18 [cited 2022May21];2(2):69-83. Available from: https://journals.au.edu.pk/ojscrc/index.php/crc/article/view/50