A Corpus Based Study of Hedges and Boosters in the Speeches of Benazir Bhutto
Keywords:
AntConc software, Corpus, Boosters, Hedges, Hyland, and Metadiscourse
Abstract
Hedges and boosters are significant in writing since they show the writer's point of view. The paper identifies two types of metadiscourse markers in Benazir Bhutto's speeches. It further aims at analyzing the pragmatic function and frequency of selected markers. The sample included thirteen selected speeches delivered from 1989 to 1997 by Benazir Bhutto and are explained through Hyland's (1996) theories related to hedging and boosters. AntConc software has been used to extricate the hedges and boosters from the corpus. This study indicates that hedges (131) are used frequently as compared to boosters (150). After the analysis of the data, the finding reveals that the most frequently occurred hedges are "could" which appears 35 times and "need" 27 times. Results show that the speaker's usage of hedge marks shows her cautiousness in speaking style. Moreover, the most frequently occurring boosters are "should" which appear 65 times and "must" 34 times. This shows that the author's voice is appeared assertive and confident. Frequency is also calculated to know which type of metadiscourse maker is used more frequently. The frequency shows that more boosters are used as compared to the hedges which show the potency of her speeches.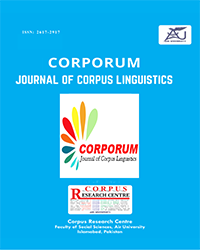 How to Cite
1.
Sabah Aziz, Umaima Kamran, Sania Ali. A Corpus Based Study of Hedges and Boosters in the Speeches of Benazir Bhutto. Corporum [Internet]. 2022Sep.6 [cited 2022Dec.3];5(1):99-111. Available from: https://journals.au.edu.pk/ojscrc/index.php/crc/article/view/282