A Comparative Corpus-based Analysis of Collocational Patterns in Self and Othertranslators
Keywords:
collocations, self-translations, other-translations, Pakistani writers, monolingual comparable corpus
Abstract
With the dawn of post-colonialism and a surge in migrations, several bilingual authors started translating their original texts into the target language. As a result, translation studies started distinguishing it from other-translations owing to its special status based on various extralinguistic features. Consequently, now it goes by the term self-translation studies (Anselmi, 2012) - a field of its own. However, none of the studies have distinguished self and other translations at the basic linguistic level. This study aims to trace and compare the patterns of collocations in other-translations and self-translations with reference to non-translated texts. For this purpose, a corpus based on a monolingual comparable model (Baker, 1993) and consisting of three further sub-corpora i.e. other-translators, self-translators, and Pakistani writers is used. The lexical collocations model proposed by Benson et al. (1997) provides a theoretical framework for this study. The sub-corpora are tagged by TagAnt 1.2.0 and treated further using AntConc 3.5.8. The findings of the study reveal that self-translators employ more collocate types and they are more homogeneously distributed around a single node in comparison to the other-translators. The results are significant for the theoretical understanding of self-translations and invite more investigations at the linguistic level to set apart the features of the two categories.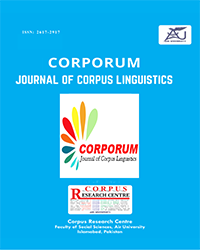 How to Cite
1.
Zara Obaid, Muhammad Asim Mahmood, Rashid Mehmood. A Comparative Corpus-based Analysis of Collocational Patterns in Self and Othertranslators. Corporum [Internet]. 2022Sep.6 [cited 2022Dec.3];5(1):56-83. Available from: https://journals.au.edu.pk/ojscrc/index.php/crc/article/view/280