Genre Analysis of Pakistani Wedding Invitation Cards
Keywords:
Genre Analysis, Wedding Invitation Cards, moves, Nonlinguistic Features
Abstract
A wedding invitation card is one of the essential written genres used to invite someone on the occasion of a wedding. It is considered as a homely genre and resultantly limited significant work is carried out on it in the domain of genre analysis. Based on the socio-cultural value, the current study aimed to carry out a genre analysis of Pakistani wedding invitation cards, to investigate the linguistic and non-linguistic features in different moves. The data was gathered from the family members, colleagues, friends, and the local printing press. A total of 100 English and Urdu written Pakistani wedding invitations, covering the time frame of 2016-2019, were gathered for this study. The current study was based on the theoretical and methodological assumptions of Swales (1990) Bhatia (1993) and Miller (1984) for the genre analysis.  Kress and Van Leeuwen's (2006) grammar of visual design was used for non-linguistic features, whereas Stockl's (2005) toolkit was used for typeface analysis. The genre analysis of the data revealed that there were eight moves in the invitation cards namely, Opening, name of the parents of bride or groom, Inviting the guests with pleasure, Name of the bride and groom, Program for wedding, RSVP, Looking forward and Name of the guest. The analysis of linguistic and non-linguistic features showed that people in Pakistani society were mindful of the social, cultural, and religious values when inviting others to this blissful event. In the end, a model has been proposed for the Pakistani wedding invitations. The current study is valuable for the field of genre analysis and to raise sociocultural awareness of this understudied homely genre in the Pakistani context. 
References
Al-Ali, M. N. (2006). Religious affiliations and masculine power in Jordanian wedding invitation genre. Discourse & Society, 17(6), 691-714.
Ali, S., & Masroor, F. (2017). Representation of Culture and Ideology through the Power of Indigenized Language: A Linguistic Critique on Khalid Hosseini's and the Mountains Echoed: A Linguistic Critique on Khalid Hosseini's and the Mountains Echoed. Erevna Journal of Linguistics and Literature, 1(1), 1-19.
Allen, R. (1989). Bursting bubbles: "Soap opera". Audiences and the limits of genre. In Ellen Seiter, Hans Borchers, Gabriele Kreutzner & Eva-Maria Warth (Eds.): Remote Control: Television, Audiences and Cultural Power. London: Routledge, pp. 44-55.
Ansary, H., & Babaii, E. (2005). The generic integrity of newspaper editorials: A systemic functional perspective. RELC Journal, 36(3), 271-295.
Al-Zubaidi, N. A. (2017). Wedding invitation genre: Communicating sociocultural identities of Iraqi society. Lublin Studies in Modern Languages and Literature, 41(1), 129-155.
Azam, S., & Saleem, T. (2019). Teaching pragmatic competence in Pakistani context: A case of Pakistani EFL learners compliment responses.Erevna: Journal of Linguistics and Literature 2(2), 26-49.
Bhatia, V. K. (1993). Analysing genre: Language use in professional settings. London, England: Longman.
Bhatia, V. K. (2004). Worlds of written discourse. London, England: Continuum.
Clynes, A., & Henry, A. (2004). Introducing genre analysis using Brunei Malay wedding invitations. Language Awareness, 13(4), 225-242.
Connor, U. (2000). Variation in rhetorical moves in grant proposals of US humanists and scientists. Text-Interdisciplinary Journal for the Study of Discourse, 20(1), 1-28.
Faramarzi, S., Elekaei, A. & Tabrizi, H. (2015). Genre-based discourse analysis of wedding invitation cards in Iran. Journal of Language Teaching and Research, 6(3), 662-668.
Johns A. (1997). Text, role and context: Developing academic literacies. Cambridge: Cambridge University Press.
Kachru, Y., & Smith, L. E. (2008). Cultures, contexts, and world Englishes. New York, NY: Routledge.
Kress, G. (1987). Genre in a social theory of language: A reply to John Dixon. In I. Reid (ed.) The Place of Genre in Learning: Current Debates, pp. 22–36. Geelong, Australia: Deakin University, Centre of Studies in Literary Education.
Kress, G., & Van-Leeuwen, T. (2006). Reading images: The grammar of visual design (2nd ed.). New York: Routledge.
Miller, C. R. (1984). Genre as social action. Quarterly Journal of Speech, 70(2), 151-167.
Mirzaei, A. & Eslami, Z. R. (2013). Exploring the variability dynamics of wedding invitation discourse in Iran. Journal of Pragmatics, 55, 103-118.
Momani, K. R. & Al-Refaei, D. F. (2010). A Socio-textual analysis of written wedding invitations in Jordanian society. LSP Journal, 1(1), 61-80.
Nunan, D. (1993). Introducing discourse analysis. London: Penguin.
Sadri, E. (2014). Iranian wedding invitations in the shifting sands of time. RALs, 5(1), 91-108.
Sawalmeh, M. (2018). Jordanian wedding invitation as a genre: An analysis of rhetorical structure and linguistic features. International Journal of Linguistics, Literature and Translation, 1(1), 106-114.
Sharif, M., & Yarmohammadi, L. (2013). On the Persian wedding invitation genre. SAGE Open, 3(3), 1-9.
Shaukat, R., Qadeer, A., & Tahir, A. (2017). Stereotypical Gender Differences in Matrimonial Choices: A Study of Marriage Bureau Websites in Pakistan: A Study of Marriage Bureau Websites in Pakistan. Erevna Journal of Linguistics and Literature, 1(1), 95-118.
Stöckl, H. (2005). Typography: Body and dress of a text-a signing mode between language and image. Visual Communication, 4(2), 204-214.
Swales, J. (1990). Genre analysis: English in academic and research setting. Cambridge: Cambridge University Press.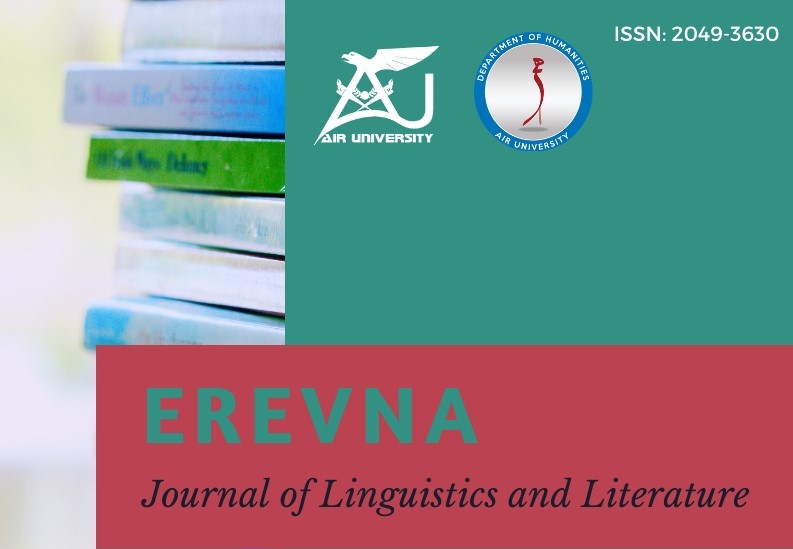 How to Cite
Haleema Majeed, Tayyaba Sahroof, & Farzana Masroor. (2021). Genre Analysis of Pakistani Wedding Invitation Cards. Erevna: Journal of Linguistics and Literature, 5(1). Retrieved from http://journals.au.edu.pk/ojserevna/index.php/erevna/article/view/95