Woman Speaks with Nature: Woman and Land through the Lens of Ecofeminism in Game of Thrones
Woman and Land through the Lens of Ecofeminism in Game of Thrones
Keywords:
Subjugation, Patriarchy, Capitalism, Dominance, FCDA
Abstract
The Game of Thrones, an HBO series depicts
various mind-probing scenarios related to women.
This series is a combination of different seasons
that have iconized female gender in variant ways. It
exemplifies many female characters epitomizing
stereotyped gender roles, female subjugation and
domination. This study explores this through the
conceptual framework of Ortner (1974) and Biehl
(1991), under the method of Feminist Critical
Discourse Analysis (FCDA) by Lazaar (2005). The
aim of this paper is to deconstruct the social
constructs. Although the movie portrays various
female characters like Daenerys, Shireen, Cersei
and Gilly, this paper aspires to scrutinize the
character of Sansa through the themes of
Ecofeminism as materialistic, capitalist and
patriarchal approaches. Sansa's character is
representative of all the victimized women. The
materialistic view relates the foundations of power
and property as a source of woman and land
subjugation and domination. In the movie, Sansa
and nature's land are two entities which are
frequently brutalized. Sansa is raped, dishonored
and treated as property. Simultaneously, the land is
plundered and destroyed for patriarchal control
and power. She is mostly represented as a
subordinate under the ownership of men affiliated
with the land. The findings of this qualitative
research demonstrate that the woman speaks with
nature as being victimized by men. In the Game of
Thrones, subjugation may or may not be an open
choice for Sansa and other women still they have
been through it one way or the other.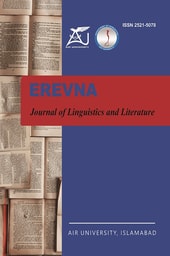 How to Cite
Zaidi, S., & Sahibzada, M. (2020). Woman Speaks with Nature: Woman and Land through the Lens of Ecofeminism in Game of Thrones: Woman and Land through the Lens of Ecofeminism in Game of Thrones. Erevna: Journal of Linguistics and Literature, 2(2), 50-59. Retrieved from http://journals.au.edu.pk/ojserevna/index.php/erevna/article/view/54