Teaching Pragmatic Competence in Pakistani Context: A Case of Pakistani EFL Learners Compliment Responses
A Case of Pakistani EFL Learners Compliment Responses
Keywords:
Compliment responses, Pragmatic competence, Pakistani learners of English, Pragmatic transfer, Sociolinguistics rules of speaking, Foreign language curriculum
Abstract
The use of the compliment strategies of
Pakistani university students in Pakistan is
investigated in the present study. The
quantitative approach is used in this study.
The sample of the study is selected using
non-random, purposive and convenience
sampling procedures. For data collection,
Two Discourse Completion Tests (Urdu DCT
and English DCT) were used. The results of
the study showed that Pakistani university
students used the same type of semantic
formulaic patterns both in English and Urdu.
There were no significant differences found
between male and female respondents (both
in English and Urdu) in the use of
compliment strategies. Results clearly
indicated that respondents translated Urdu
strategies into English, and at the same time
transferred L1 cultural trends and produced
cultural-specific compliment responses.
Moreover, the findings also exhibited that
Pakistani university students only used
"Agreement" strategies and avoided the use
of "Disagreement" and "Request"
strategies. The study indicated that
pragmatic competence is an essential
component of communicative competence.
Therefore, teaching pragmatic knowledge
plays an important role in a foreign
language curriculum, particularly in
teaching English as a Foreign Language
(EFL).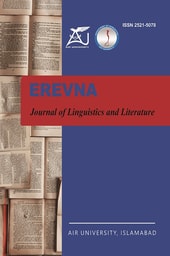 How to Cite
Azam, S., & Saleem, T. (2020). Teaching Pragmatic Competence in Pakistani Context: A Case of Pakistani EFL Learners Compliment Responses: A Case of Pakistani EFL Learners Compliment Responses. Erevna: Journal of Linguistics and Literature, 2(2), 27-49. Retrieved from http://journals.au.edu.pk/ojserevna/index.php/erevna/article/view/53