Book Review This House of Clay and Water By Faiqa Mansab
House of Clay and Water By Faiqa Mansab
Keywords:
substantially autonomous, blunt, meek servant, highlight
Abstract
This House of Clay and Water draws the sketch of life's miseries in a third world country
like Pakistan which is governed by rigid socio-religious obligations. The novel tells
multiple stories at a time. One is of the women growing out of the stereotypical notions of
morality into a substantially autonomous being. The other story is of the women who
travels from being a blunt, autonomous, and self-sufficient women into a meek servant of
societal norms. Also, a transgender's struggle at finding love and a child's account of
suffering. Faiqa Masab through this novel highlight certain questions that are deliberately
kept unanswered in our society. Moreover, the predicament of the human condition is
caught artistically in her use of language and the vividness of cultural details. This review
will discuss Mansab's use of language after a brief account of the pertinent themes and her
details of Lahori culture.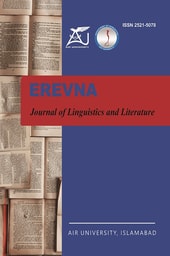 How to Cite
Tehreem Wali, T. W. (2020). Book Review This House of Clay and Water By Faiqa Mansab: House of Clay and Water By Faiqa Mansab. Erevna: Journal of Linguistics and Literature, 2(1), 83-84. Retrieved from http://journals.au.edu.pk/ojserevna/index.php/erevna/article/view/50