Survival of the Fittest : A Textual Analysis of Juno and the Paycock
A Textual Analysis of Juno and the Paycock
Keywords:
Survival, Emotional, Moral, Physical, Fittest, Ethics
Abstract
This study investigated the issue of survival of
the fittest in O' Casey's play Juno and the
Paycock (1924). The theoretical framework of
Biological Evolution developed by Spencer
(2014) and Survival Ethics Theory by Verharen
(2011) was applied to analyze the characters of
the play. Rhetorical Criticism by Andrews
(1983) was used to analyze the characters. It
has been analyzed how physical, emotional and
moral fitness plays its role in the lives of
characters. In order to do a Textual Analysis,
the themes and characters were investigated to
explore the notion of survival of the fittest. It
was a qualitative descriptive research for
which the entire text of the play was analyzed.
The study concluded that some of the
characters were physically fit while the others
were emotionally and morally fit to survive.
Therefore, the role of fitness is very important
in people's lives to overcome anxieties and
pressures of life.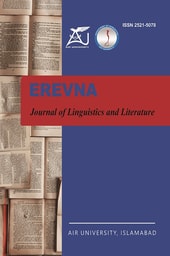 How to Cite
Salahuddin , S., Zaidi, S., & Salah, S. (2020). Survival of the Fittest : A Textual Analysis of Juno and the Paycock: A Textual Analysis of Juno and the Paycock. Erevna: Journal of Linguistics and Literature, 2(1), 34-46. Retrieved from http://journals.au.edu.pk/ojserevna/index.php/erevna/article/view/47