Description of Postpositions in Poguli
Postpositions in Poguli
Keywords:
Dialect, Poguli, Postpositions, Different functions of Postpositions
Abstract
Poguli is spoken in the Pogal-Paristan area of
district Ramban in the state of Jammu and
Kashmir. Poguli shows interesting and
significant variations from Kashmiri in
phonology, morphology and vocabulary but
linguistic research on these aspects of the
dialect of Kashmiri is inadequate and
fragmentary. The present paper attempts to
study Poguli based on its morphological
description. The study includes the description
of postpositions in Poguli and gives a complete
account of different functions which occur in
the postpositional description. The findings
revealed that postpositions follow nouns or
pronouns, and mark grammatical functions,
location, movement or extent in space and time
in Poguli.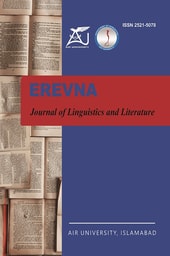 How to Cite
Dr. Neelofar Hussain Wani, D. N. H. W. (2020). Description of Postpositions in Poguli: Postpositions in Poguli. Erevna: Journal of Linguistics and Literature, 2(1), 15-33. Retrieved from http://journals.au.edu.pk/ojserevna/index.php/erevna/article/view/46