Nominal Suffixation in Hindko
Hindko
Keywords:
Nominal,, Suffixation, Constraints, De-Nominal, De-minutive
Abstract
This research describes the nominal suffixation process in
Hindko. It aimed to reveal the affixes of different categories
which are used for nominal suffixation. For this purpose, the
documentation of Hindko language spoken in different regions
of Neelum (Neelmi Hindko) Azad Kashmir was a prerequisite.
The study adopted a qualitative approach and data was
collected through discourse-centred method, in which Hindko
Radio programs, Hindko Literature and Hindko songs were
collected. The data was analysed on the etymological
information of the phenomenon under observation. The study
reflected that in Hindko language, suffixation is a very
productive process of forming nouns. It was revealed that in
Hindko Language suffixes like ii, KaR.-aa and -dar is used to
derive Nouns from nominal roots. Moreover, the suffixes-ii,
and -Kar. are used to derive nouns from the nominal base. The
suffix_KaR can only be attached with bases having sound like
features e.g. Dam, GRal etc. Moreover, the data showed that
the suffix _ii brought a semantic change in the root words like
LenR means Slide in general but when we say LenRii it meant
‗a small slide'. Data showed that these suffixes do not bring
any morphological or phonological change in the root or bases.
So, these can be termed as neutral suffixes in Neelmi Hindko.
The data also concluded that in Hindko, nominal suffixes are
conditioned semantically and morphologically for new
derivation.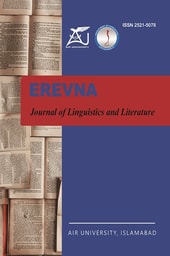 How to Cite
Mir , S. H., Rashid , D. ur, & Khan , D. Q. (2020). Nominal Suffixation in Hindko: Hindko. Erevna: Journal of Linguistics and Literature, 1(2), 22-35. Retrieved from http://journals.au.edu.pk/ojserevna/index.php/erevna/article/view/40