A Corpus-Based Study of Austen's Novel Pride & Prejudice using Cirrus Tool
Keywords:
corpus, cirrus, word cloud, themes, Austen's, previewing, prejudice
Abstract
Previewing approach develops reader's cognition and presents an epigrammatic digital understanding of the text. The visual representations of knowing a word cloud produces an everlasting impact on the memory slate of the reader. The study aims at constructing an interactive cirrus word cloud preview based on statistical data that will help the readers to preview the extracted major themes and important characters in Jane Austen's novel Pride & Prejudice. The study addresses the main research question: How does Cirrus tool reveal significant characters and themes of Austen's novel Pride & Prejudice? A mixed method approach was applied to find out the significant characters and themes in Pride & Prejudice". The findings reflect that Cirrus tool can quickly extract 59 words from the novel, the most frequent 59 words/themes were found in Voyant Tools from the complex text. The corpus of the text of the novel "Pride & Prejudice" represented the main characters and the themes.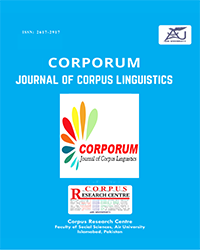 How to Cite
1.
Asif M, Zaidi S, Yasmeen F. A Corpus-Based Study of Austen's Novel Pride & Prejudice using Cirrus Tool. Corporum [Internet]. 2021Jun.27 [cited 2021Dec.7];4(1):60-72. Available from: http://journals.au.edu.pk/ojscrc/index.php/crc/article/view/132